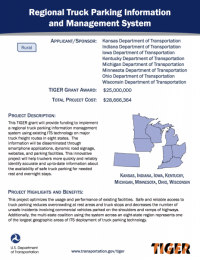 Eight MAFC States Awarded 2015 TIGER Grant
Eight of the ten MAFC states–Kansas, Indiana, Iowa, Kentucky, Michigan, Minnesota, Ohio, and Wisconsin–have been awarded a 2015 TIGER grant for a Regional Truck Parking Information and Management System.
MAFC researchers supported this TIGER application with a synthesis of the literature and previous efforts to study, test, and implement a range of truck parking information systems across the United States and Europe. They will also participate in the Truck Parking Information Management work team, now established to provide coordination in support of implementation of the grant.