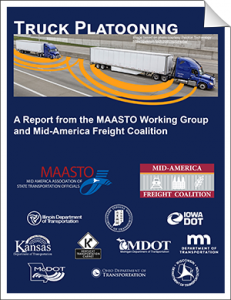 The purpose of this report is to provide an understanding of truck platooning and how this technology can be adopted across MAASTO freight corridors in a uniform manner.
Coordinated regulations across state boundaries will better serve and meet the needs of the industry. The overall goal is to develop a Midwest Truck Platooning Regulatory Model that provides for harmonization of regulations governing truck platooning across the MAASTO region. This effort to "harmonize" is somewhat driven by the historic and current status of OSOW regulations across the country.
Often there are state-by-state differences that hinder efficient movement of oversized loads. Placing mixed regulations across the region will decrease the efficiency and slow the adoption of truck platooning.