Entrance Gate: 600 Fern Street, Ferndale, MI 48220 | Google Map | Website | Interstate Access: I-75, I-696 | MAFC Corridors: I-75
Canadian National's (CN) Detroit Moterm Intermodal Terminal (MOT) is located outside of Detroit, MI in Oakland County.
There are six intermodal terminals in Detroit. The CN Moterm Intermodal Facility is among the Detroit area terminals (NS, CSX, CP) that the Michigan DOT considered for a proposed intermodal terminal that all railroads could share, thus optimizing truck movements within the city. This effort, called the Detroit Intermodal Freight Terminal (DIFT) Study recently went through the NEPA process to determine the feasibility of terminal consolidations. The final alternative included moving MOT operations to the Livernois-Junction Yard. According to the 2011 Michigan State Rail Plan, CN has opted not to shift its Moterm operations to the Livernois-Junction Yard and not to expand its terminal. The CN will however contribute financially for its share of improvements that it will benefit from.
According to the 2013 National Transportation Atlas Database, the Moterm intermodal terminal is located on CN's Holly Subdivision. Amtrak has trackage rights over this route.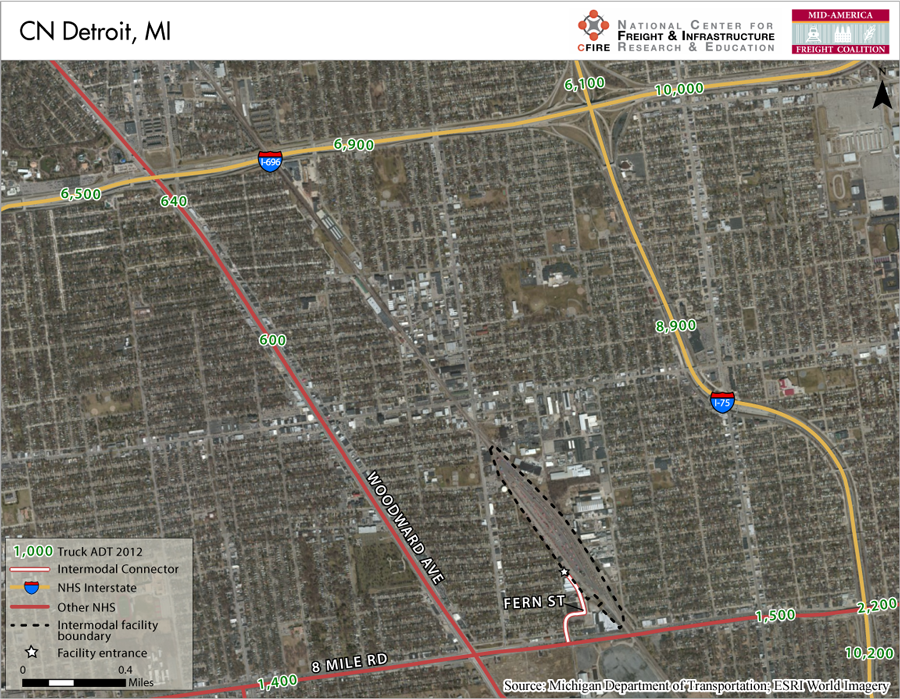 Intermodal Connectors
Intermodal Lanes
According to the Great Lakes Manufacturing Council, Moterm moves containers to the following destinations:
Calgary, AB: 27th Street (C27)
Chicago, IL: Harvey Intermodal Terminal (HRV)
Edmonton, AB: Edmonton (EDM)
Halifax, NS: Halifax (HFX)
Jackson, MS: Richland (RLD)
Lewiston, ME: Maine Intermodal (AUB)
Memphis, TN: Memphis Intermodal Terminal (ALC)
Moncton, NB: Gordon Yard (GDN)
Montreal, QC: Taschereau Yard (TAS)
New Orleans, LA: Mays Yard (MAY)
Prince Rupert, BC: Prince Rupert (PRU)
Saskatoon, SK: Chappell Yard (CHP)
Toronto, ON: Brampton (BPT)
Vancouver, BC: Surrey (SUR)
Winnipeg, MB: Plessis (KNS)
Lift Counts
None available.