Entrance Gate: 7600 Santa Fe Drive, Hodgkins, IL 60525 | Google Map | Website | Interstate Access: I-294, I-55 | MAFC Corridors: I-55
BNSF's Chicago Willow Springs (WSP) intermodal terminal, a 186-acre facility, is BNSF's smallest intermodal facility in Chicago. According to the articles, Inside Willow Springs and 24 Hours at Willow Springs in Trains Magazine, WSP's importance lies in that it is adjacent to the Chicago Area Consolidation Hub (CACH) for UPS, a major traffic generator not only for BNSF but other railroads in Chicago. The service BNSF provides out of Willow Springs is premium-priced expedited intermodal. These expedited trains are called "Z" trains. Generally the trains are started at Corwith, but then come to Willow Springs to complete the train generally to full-size, about 8,000 feet. This intermodal facility routinely loads and unloads 11 trains in and 12 out in a single day. With little dwell time, this facility is highly efficient.
A private road connects CACH to BNSF's facility. Willow Springs features nine tracks, eight overhead cranes and double concrete ramps so trains can be loaded or unloaded from either side. The yard handles about 1,400 UPS loads per day, and averages 12 outbound and 11 inbound trains daily.
The Willow Springs facility has been equipped with Optical Character Recognition (OCR), a technology that uses video cameras to automatically identify container, trailer, and chassis prefixes and numbers. The video cameras also create images of the container, trailer, and chassis to record the equipment's condition at interchange to or from the driver.
According to the 2013 National Transportation Atlas Database Willow Springs is on the BNSF Chillicothe Subdivision. Norfolk Southern, Union Pacific, and Canadian National have trackage rights over the Chillicothe. WSP is also located on BNSF's Corridors of Commerce, specifically the Great Northern and the TransCon Corridors.
This terminal is part of the CREATE series of projects to improve rail flows through Chicago. A connection will be built to improve movement between the BNSF Cicero and Corwith Yards, which will also impact operations at Willow Springs. The projects are listed as WA4 and WA5 on the CREATE website.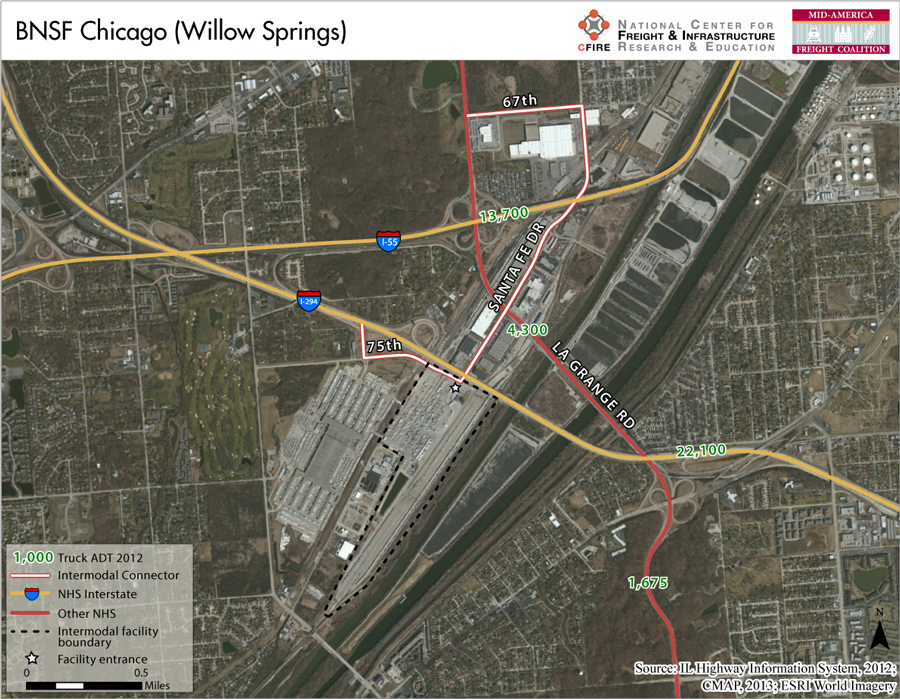 Intermodal Connectors
75th Street
Santa Fe Drive
67th Street
Intermodal Lanes
This facility handles domestic traffic. Specific destinations according to BNSF are:
Albuquerque, NM: Albuquerque (ABQ)
Dallas/Ft Worth, TX: Alliance Intermodal Facility (ALT)
Denver, CO: Irondale (IRN)
Fresno, CA: Golden State Road (GST)
Kansas City, MO: Argentine (ARG)
Kansas City, MO: LPCK
Los Angeles, CA: Hobart (HOB)
Phoenix, AZ: Glendale (GLN)
San Bernardino, CA: San Bernardino (SBD)
Stockton, CA: Stockton Intermodal Facility (MOR)
Lift Counts
Data reported by the Chicago Metropolitan Agency for Planning. Counts are listed by year.
2012: 512,604
2011: 492,680
2010: 457,458
2009: 462,507
Warehouse and Distribution
The following map shows the locations of warehouses and distribution centers as well as the UPS Consolidation Hub co-located with the BNSF Chicago Willow Springs facility.
Source: ESRI's Business Analyst 2012 dataset and CenterPoint website and BNSF.