Gate Entrances: 4017 S. Kedzie Avenue, Chicago, IL 60632 & Pulaski and 41st Street Chicago, IL 60632 |  Google Map | Interstate Access: I-55 | MAFC Corridors: I-55
BNSF'S Corwith Intermodal Terminal (CRW) is located in Chicago, IL. This terminal is one of four BNSF intermodal terminals in the Chicago area. The others are Cicero in Cicero, IL, Willow Springs in Hodgkins, IL, and Logistics Park in Elwood, IL. Interstate 55 provides access to Corwith.  This facility lies slightly outside of the I-90 corridor (three miles from centerline).
BNSF has modernized Corwith's gate system to increase facility throughput, reduce truck idling, and improve air emissions by fifty percent. These updates include installed new intermodal gate technology using digital cameras to record images of the containers, chassis, tractors, and unit numbers as they enter the intermodal facility. In addition, drivers are identified using a biometric system.
This TOFC-COFC facility is on a spur of the BNSF Chillicothe Subdivision. Norfolk Southern has trackage rights over the Chillicothe. This terminal is part of the CREATE series of projects to improve rail flows through Chicago. A connection will be built to allow connection between BNSF Cicero and Corwith Yards. The projects are listed as WA4 and WA5 on the CREATE website.
Each BNSF intermodal terminal has its own function within the system, though operations are linked. For example, crews for Logistics Park Chicago, Willow Springs, and Corwith start and end at Corwith.
CRW is also located on BNSF's Corridors of Commerce, specifically the Great Northern and the TransCon Corridors.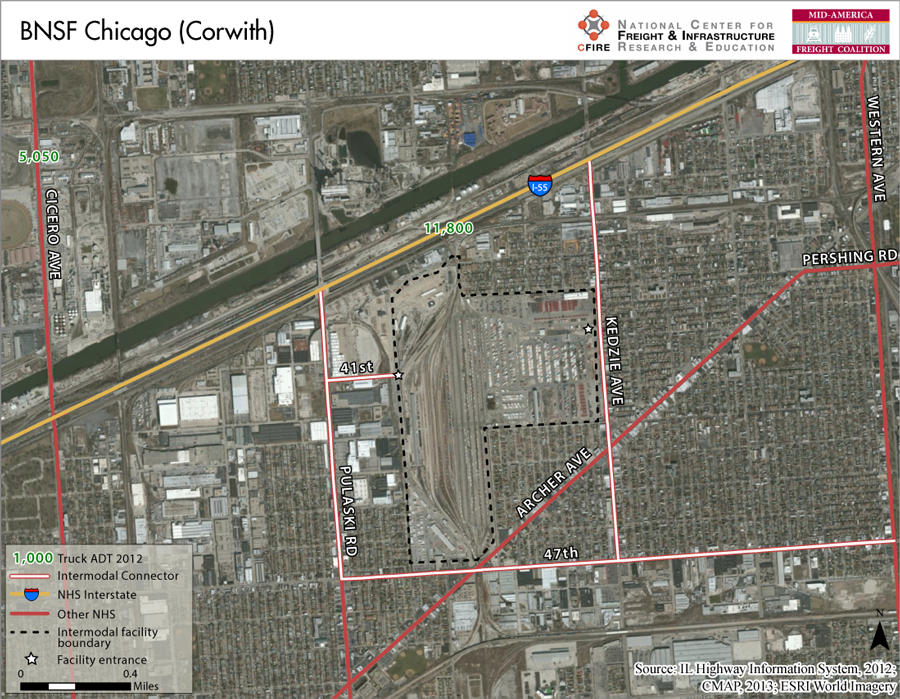 Intermodal Connectors
Kedzie Avenue
Pulaski Road
41st Street
47th Street
Intermodal Lanes
This facility handles approximately 80 percent domestic intermodal and 20 percent international traffic. Specific destinations according to BNSF are:
Dallas/Ft Worth, TX: Alliance Intermodal Facility (ALT)
Denver, CO: Irondale (IRN)
El Paso, TX: Santa Fe Street (SFE)
Fresno, CA: Golden State Road (GST)
Houston, TX: Pearland (PEA)
Kansas City, MO: Argentine (ARG)
Kansas City, MO: KS-LPKC
Los Angeles, CA: Hobart (HOB)
Los Angeles, CA:  Los Angeles Harbor APM Trml-Pier 400(LAP)
Los Angeles, CA:  TICTF Yusen (LAY)
Long Beach, CA: Long Beach Pier A (LBA)
Long Beach, CA: LB Container Terminal (LBCT)
Long Beach, CA: Long Beach Pier J (LBJ)
Long Beach, CA: Pacific Container Terminal (LBP)
Long Beach, CA: Long Beach Pier T (LBT)
Los Angeles, CA: Global Gateway
Los Angeles, CA: West Basin
Oakland/San Francisco, CA: Oakland International Gateway (OIG)
Omaha, NE: Gibson Road (8TH)
Phoenix, AZ: Glendale (GLN)
San Bernardino, CA: San Bernardino (SBD)
Stockton, CA: Stockton Intermodal Facility (MOR)
Lift Counts
Data reported by the Chicago Metropolitan Agency for Planning. Counts are listed by year.
2012: 808,336
2011: 744,803
2010: 708,125
2009: 654,927
Warehousing and Distribution
The following map shows the locations of warehouses and distribution centers in the vicinity of the BNSF Chicago (Corwith) facility.