There are two primary types of planes that transport air cargo freight: freighter jets (or simply called freighters) and passenger planes. Freighters are designed for cargo flight and usually have specific features that differentiate them from conventional passenger aircraft. Some of these specific features include a tall and wide fuselage cross-section, a high-wing to allow the cargo to sit near the ground, a large number of wheels to allow it to land at unprepared locations, and a high-mounted tail to allow cargo to be driven directly into and off the aircraft. It is fairly common, however, for passenger airplanes to be converted to freighters after being deemed "uncompetitive" due to several years of use or when airlines adapt to more fuel-efficient fleet technologies.
Amongst the freighter category are three primary body styles. The first is a large body , which carries freight that is less than 45 tons.
Figure 1: Large Body Freighter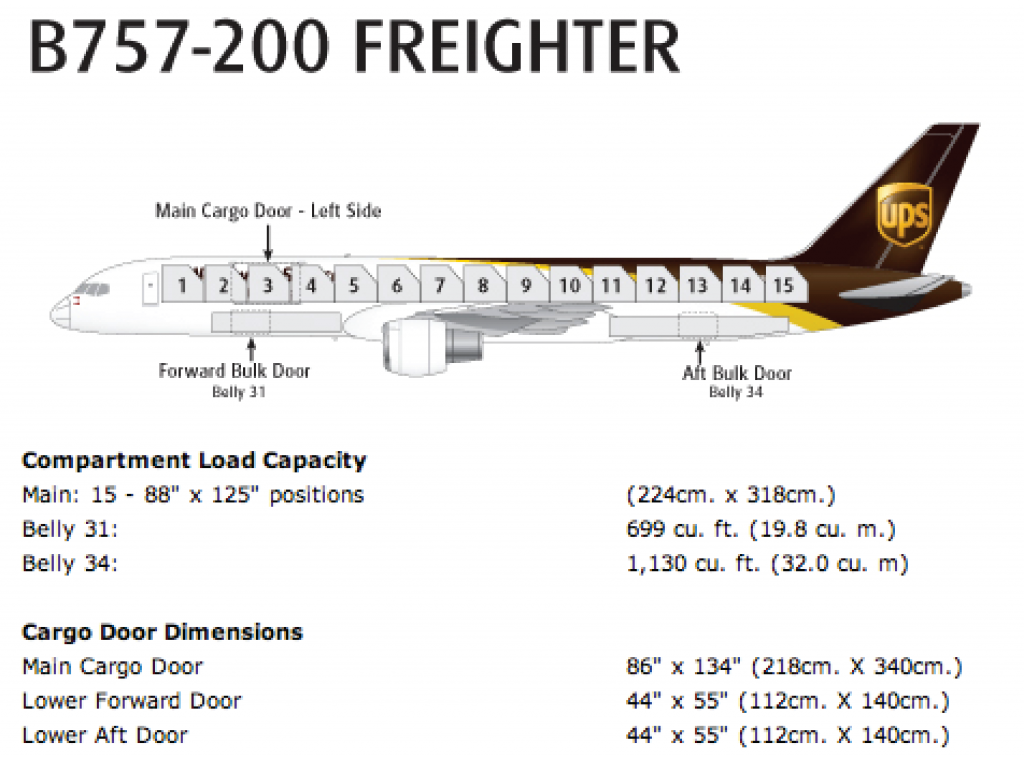 The second is a medium wide-body carrying between 45-75 tons. The final category is a large wide-body that is used for freight more than 75 tons.
Figure 2: Large Wide-Body Freighter

In addition there are three major market segments: express, airfreight, and mail. Express freight can be summarized as freight that is non-scheduled and must get from point A to point B as soon as possible. Airfreight refers to cargo that is shipped on scheduled flights. Mail is primarily services for postal companies, composed of letters and small packages.
There are five categories of air cargo providers:
Integrators (such as FedEx, UPS, DHL) operate a fleet of scheduled aircraft, trucks, and couriers offering door-to-door delivery service.
All Cargo Airline (such as Polar, Nippon Cargo, Cargolux) generally operate scheduled wide-body aircraft from one major airport to another, and are highly reliant on the freight forwarding industry; geographic coverage is limited.
Combination Airlines (such as Delta, Korean Air, British Airways) are scheduled passenger airline operators.
Freight Forwarders (such as DHL Global Forwarding, Kuehne Nagel)
Postal Offices (such as US Postal Service, Deutsche Post)
According to Boeing, the global supply of large body freighters (<45 tons) is anticipated to grow 80 percent from a current fleet of 1,738 to 3,198 in 2031. Large body freighters will play an increasing role in the air cargo sector, expected to rise from 31 percent to 36 percent of the world's fleet by 2031, up from just 22 percent a decade ago. However, the FAA FY 2013-2033 forecast predicts the domestic large body cargo jet supply will diminish by 28 aircraft over the next two years (from 840 to 812 aircraft in 2014), and then grow to 1,211 aircraft in 2033. The narrow-body cargo jet fleet (45-75 tons) is projected to increase by 3 aircraft per year over the 21-year forecast period as older 757s and 737s are converted to cargo service. The wide-body cargo jet fleet (>75 tons) is projected to increase by 14 aircraft annually. (Note: Boeing refers to their inventory as "freighters," whereas the FAA classifies them as "cargo jets.") As worldwide large body aircrafts are expected to track upwards, US fleets of large body aircraft are anticipated to dip over the next two years before joining the global rally.