Warehousing, logistics, and transportation services are needed to distribute goods and organize supply chains.  These industries will collectively be called freight support industries. Figure 1 displays the distribution of freight support industries in the MAFC.  The businesses shown cover all modes. The distribution is heavily concentrated in population centers, but also follows the Class I railroad network and the interstate system very closely.  Figure 1 emphasizes the importance of industries beyond just the movers of goods shows the thousands of businesses that support freight transportation.
Figure 1: Freight Supporting Industries in the MAFC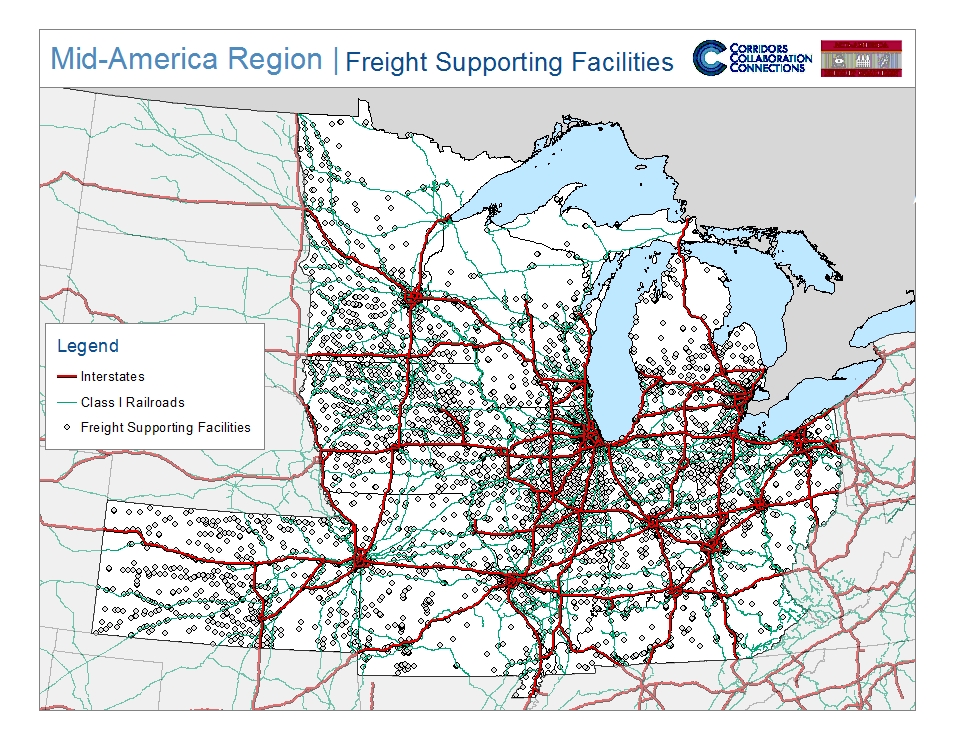 Source: Esri Business Analyst, 2011
Table 1 displays the employment and business count of freight supporting industries by state and for the MAFC.  While the total jobs and businesses are less than the trucking industry, they are much larger than air, rail, pipeline, and maritime transportation.
Table 1: Freight Supporting Industry Businesses and Employment in the MAFC
| | | | | |
| --- | --- | --- | --- | --- |
| State | Freight Support Industries Employment | Freight Support Industries Businesses | Total State Employment | Total Business Count |
| Iowa | 7,788 | 734 | 1,607,190 | 136,378 |
| Illinois | 22,075 | 2,017 | 5,884,453 | 476,575 |
| Indiana | 9,041 | 677 | 2,938,335 | 222,320 |
| Kansas | 6,111 | 682 | 1,407,272 | 123,790 |
| Kentucky | 6,877 | 419 | 1,819,898 | 153,924 |
| Michigan | 10,551 | 807 | 4,305,125 | 371,368 |
| Minnesota | 9,117 | 712 | 2,888,004 | 221,993 |
| Missouri | 8,391 | 664 | 2,883,801 | 239,690 |
| Ohio | 18,832 | 1,167 | 5,634,785 | 413,878 |
| Wisconsin | 6,046 | 560 | 3,063,309 | 244,656 |
| MAFC | 104,829 | 8,439 | 32,432,172 | 2,604,572 |
Source: Esri Business Analyst, 2011